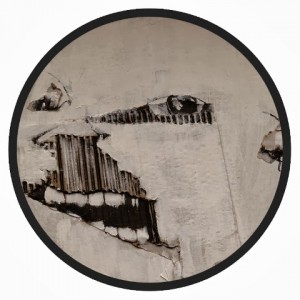 Release date is in October 2013
Two new faces on Earwiggle, German producers MasCon and Oliver Rosemann, are united under the dualit moniker for a rough ride on Sunil Sharpe's Dublin-based imprint. Mechanical in-your-face four-tracker starts with rugged loops and drilling stabs in "Triton", followed by maritime deity theme "Proteus", which opens with Blawan-style alienated vocal ripples and adds distorted kicks and other instruments from the hard techno toolbox.
Top-end contribution comes from the enigmatic mercenary Bleaching Agent, when its asthmatic take on "Proteus" opens the B-side, sending cold shivers down the spine with Styxian horns and robust loops creating a perfect groove. Terminating messages are received from Jupiter's moon in "Thyone", tested positive for flammable substance with corrosive undercurrents. Of locked grooves concluding both sides the one on A reminds of early M-Plant.