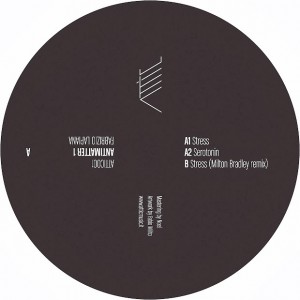 Release date is in September 2013
Fabrizio Lapiana, the founder of Attic Music, launches a new series called Antimatter and the first of three releases features two tracks by the man himself plus a remix by Berlin's dark knight Milton Bradley.
"Stress" is pure juggernaut techno where a brutal bass line lends vintage Midwest feel to the track, proudly reminding of early DJ Skull and Mike Henk. The storming mood is abruptly changed by "Serotonin", a smudged intro touching the realms of ambient and later moving between a mash-up of Underworld's "Mmm … Skyscraper I Love You" and early Plastikman. For the end the peace is broken by Bradley's loud workout of "Stress" banging properly with straight textures. A bit old-fashioned but still with high floor-grading. Recommended.